Motorcycle officer Bernard Gerard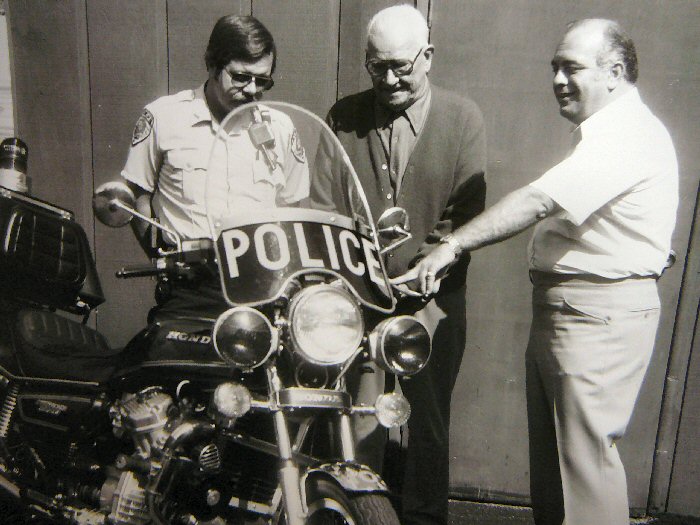 Motorcycle Officer Charles Lahey, Retired Chief Carl Soderlin and Chief Nicholas Coscino. During a visit to the RFPD in 1981, Retired Chief Carl Soderlin is shown a Honda CB650 police motorcycle. Chief Soderlin sold motorcycles in 1920 to police departments. He was offered a job on the RFPD that year and on August 5th he became
a m/c officer on its three-man department.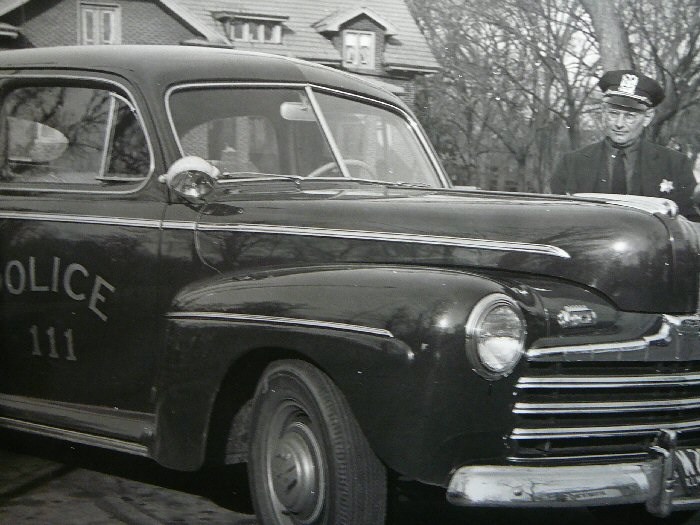 Sergeant Les Watson in 1946 with Squad 111.
Les was a founding secretary of FOP Lodge #102 in 1929, and was president of the PD Benevolent Association. Les retired as a Lieutenant on June 30, 1952 and passed away in 1979.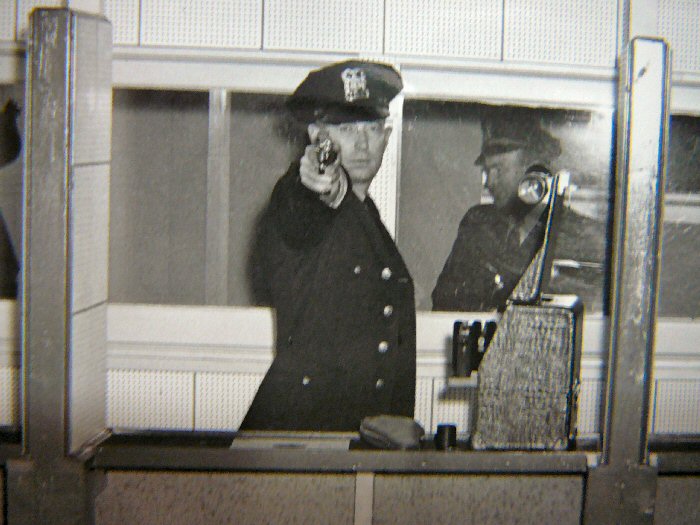 Officer Ralph Marsh #154 target shooting at indoor shooting range 1947. The shooting range was built by RFPD Officers and was located above the Public Works Department on the 400 Block of Jackson-later RF Community Ctr and later approx. rear area of Jewel Food Store. Ralph retired as a Lieutenant in1968 and he and his wife died as a result of injuries due to a car accident in 1989.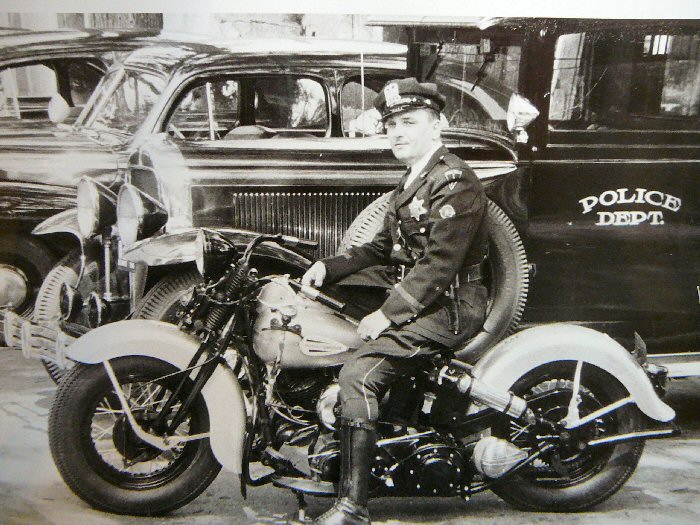 Motorcycle Officer Arthur Willing. Art entered the Police Department on June 1, 1946 after serving as a RF Fireman for a short time. He retired as a Sergeant on September 30, 1968. Art's mother served as a police matron on the RFPD.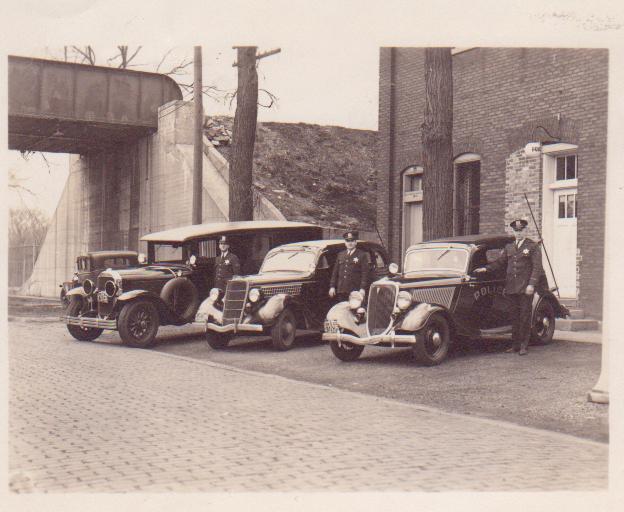 Radio equipped...note the antenna on the closest squad.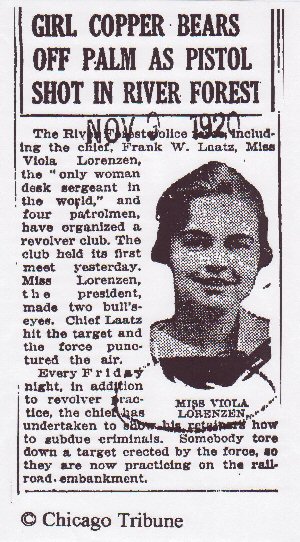 November 1920 article
A snapshot taken in the late 1920's of two motorcycle officers on Central Ave. Officer Powers (with dog) and Officer Herbert Reilly. Officer Reilly is promoted to Sergeant and shortly after is dismissed from duty along with four other officers on March 10th, 1929.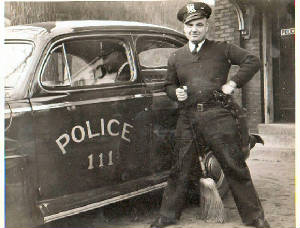 Officer Matthew "Edwin" Petersen posing with broom outside front door of police station next to squad 111. Ed Petersen was a founding Officer of the original RF FOP Lodge in 1929. He was assigned the desk often in later years. He retired as sergeant in 1956 and passed away only eight months later at 50 years of age. Photo taken about 1946.
Officer Robert Loftus, January 23, 1963. Officer Loftus resigned on September 15, 1963 but then was re-instated on April 15, 1964. He later received a disability retirement on January 15, 1967. In 1968 he shot himself in the stomach "while cleaning my gun". Retired Officer Loftus passed away in 1990.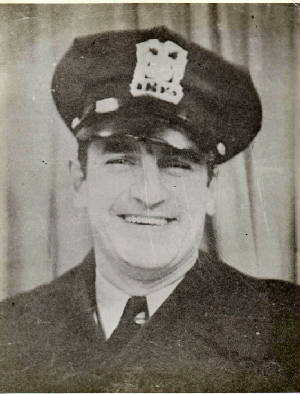 Portrait of Officer Charles William Broehl Sr. His son, Charles Jr. who is four years old when this photograph is taken, later becomes a Lieutenant on the Forest Park PD. Officer Broehl retired in 1949 and passed away in 1980.
Memorial Day Parade, May 30th, 1960. Officers with Police float. From left to right: Officer Arthur Willing, Officer Fred Pienkos and Chief Bernard Gerard. Officer Pienkos retired in 1972 and passed away in 2008.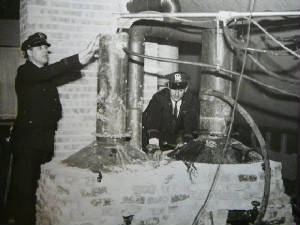 In 1932, during prohibition, an iIllegal 250 gallon still in a River Forest residence on Jackson Ave., is investigated by Officers Charles Broehl #132 and Walter Gray #139. Walter was the victim of a car bombing in 1940 (photos pending)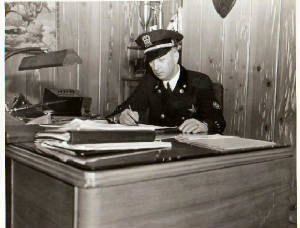 Lieutenant Ray Rheingruber seated at Chief's desk about 1946.
Ray was the very first Lieutenant on the department, July 1, 1929. He entered the department in 1925 but held the position of RF Village Constable until 1931. In 1929 he was the founding VP of the RF FOP Lodge. He retired in 1947 with a pension of $165 from a salary of $317 per month. Ret. Lt Rheingruber died in 1961
Newspaper story September 5th, 1940. Lt. Rheingruber tells Chief Soderlin how he captured a 19 yr old car thief by placing a slug into the stolen car.
2009/hhb